TSE GO MOBILE HEADSET REVIEWS
When I played High School football many years ago, we had a regular routine as our team bus pulled into our opponents parking lot. Once the bus stopped you would hear someone yell "LOCK & LOAD!!" meaning put your helmets on and get ready!
You might be asking yourself…what does this have to do with headsets?? Well, spending most of my life in phone sales this became a part of the routine again and after a high-energy pre-shift I would shout out "Lock & Load!"
The alignment here is a psychological one to get yourself locked in and ready to make something happen. It was the "lock and load" state of mind that will give you the intensity and confidence to speak to new people and create opportunity. Much like we do in Headhunting every day.
So, here it is my headset review of 3 options I have used extensively. "What's that you say?" "You don't use a headset??" "Why not?!"
I think first off, if you are not creating a hands-free environment while you are calling you will suffer from longer duration between calls, momentum will slow and most importantly you will never feel that "Lock & Load" feeling to dial yourself in for the day. No pun intended.
So now you are thinking, "I need a headset!" Which one to buy??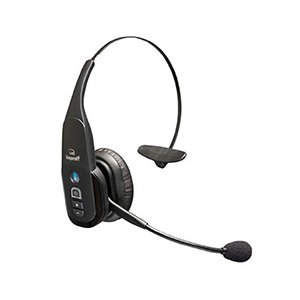 1. Blue Parrot– If you know a trucker, this is the headset they swear by. With the intense rumble coming from an 18-wheeler, this headset surely flexes its noise cancelling muscle.
I have used this headset for over a year with great success. The noise cancelling is exceptional to the point where some people ask if I'm still there. Voice quality is decent and the adjustable boom microphone can be moved further or closer to your mouth depending on your environment. Where this headset falls short is on looks. If you are a "fashion forward out and about person" this headset can look a little silly around town.
The design has never changed and has the look and feel of one of those old headsets you had with your "Walkman", yes I said "Walkman", surely dating myself.
So, all in all the performance of this headset is exceptional, it just lacks the cosmetic appeal a lot of its competitors possess. Battery life is outstanding! No problem lasting a full day on the phone
2. Plantronics Voyager Legend HD UC – Now, this is a slick looking headset. It fits nicely on the ear (you can wear it all day) and is very discreet. So discreet that I think everyone at the grocery store thinks I'm that crazy guy that talks to himself and no one can ever tell if you are on the phone or not, which is common with all headsets to a degree.
Being truly "MOBILE" this headset has some nice features such as voice answering which is handy when a call comes through, it tells you who is calling and asks you "Answer or Ignore", a truly great feature for heavy multitasking.
When it works that is! The CareerBrokers at my office regularly hear me screaming "ANSWER!" and a few swear words when I miss the call. This annoyance is outweighed on the convenience as this feature does work fine most of the time.
Noise cancelling is ok and it tends to be more susceptible to interference overall. It does have its bad days as well as great days. The sensors in this headset work great and you can answer calls just by putting it on and has an easy button to find for answering another line or hanging up.
If this sounds like the one for you I strongly advise getting the charging case with it as it has saved me a few times. One last thing, this model functions excellent across many operating systems and programs. I use it on a MAC, PC, Skype, Skype for business and GOTO Meeting.
3. Apple Wired Headset – The good old wired Apple headset! Hey, if it is good enough for Gary V then its good enough for me! Well. Sort of.
Don't get me wrong sound quality is exceptional and you will never have pairing issues as you just plug it in and go. However, I did take a while to go completely wireless as I do a lot of speaking on webinars and such and my voice quality is most important factor to me.
When I finally did "cut the cord" it was literal, meaning I went through many headsets and phones from the cord being ripped out or me dropping my phone. You know what they say "motion creates emotion" and if you are a pacer you are probably better off with wireless solution. If you are quite stationary and voice quality is most important to you then this headset could be a great fit and it usually comes with your device so the costs is best as well and you never need to charge it.
That about sums it up! My main point to this is USE A HEADSET! It will change your game, make you more productive and give you the freedom to card a candidate at the grocery store, but be aware these devices have a downside as well, they can turn you into a workaholic.
Next Headset review will be the New Apple wireless. Have any of you tried it yet?