30 Years As a Headhunter
Who would have imagined that going to university to become a Public Accountant would turn into a 30 year career in Headhunting. Form the 80's to 90's to the new millennium.
In fact, I remember how it all started in April of 1988 as clear as yesterday. I was contacted by a headhunter in Toronto to interview for an accounting role at a leading bank when the conversation turned into "Richard, have you ever considered becoming an accounting Headhunter?" Needless to say my immediate answer was a firm "no" but I was still curious as to what the term Headhunting really meant. I had no idea it that it was a multibillion industry that involved consulting with leading corporations or that it helped gainfully employed people find a better career opportunity confidentially.
Interestingly, that headhunter did get me a job offer for the banking job but he also gave me an offer to become a Headhunter. I took the job at the bank and started on a Monday but as I stared at the wall sitting at my desk, I wondered why not take a chance at Headhunting at the young age of 24. I quit that job at the end of the day and started with the headhunting company on the Tuesday.
In those days there were no short cuts like job boards, LinkedIn, or even computers. There was only the yellow pages, a pen, pad of paper and a fax machine. But what we did have was the human touch of meeting people in person and the Power of the Phone. The next day I booked 3 sendouts (interviews) and unbelievably on the Friday of my first week the client made an offer to one of my candidates. The candidate accepted and I made my first placement in a mere 4 days.
Those billings paid off my student loan which would have taken me years to do so if I were still working at the bank.
I was now bitten by the Headhunting bug and realized I could apply my accounting background to becoming a successful Accounting Headhunter versus crunching numbers as an accountant. I also wondered why more people did not know about how amazing the headhunting industry was as a profession. It was part entrepreneur, sales person, detective, researcher, advocate, business consultant and much more.
Fast forward to 2018, having trained hundreds of recruiters and built an owner based platform for Headhunters to make shared placements, I wonder how much has been lost from the ethos of headhunting.
In fact, I even took an even deeper commitment to the profession by going into the jungle to meet real Headhunters! I had always been intrigued by who the real Headhunters were While the macabre of real headhunting may be hard to fathom, the fact is those headhunters were on the hunt for heads the same way we hunted down the best candidates for our clients. Of course, the heads we hunt were more to do with the brain our clients wanted inside those heads.
Similarly, the real headhunters had their own organizational structure much like our corporate world. From specialized teams, techniques and processes they solved their own simple problems with human resources.
Another highlight in their jungle was their ability to even communicate and with animals like the Orangutan which has 98% of our human DNA. I was given the privilege to actually sit down with one and interact with him. From holding hands and sharing food it felt like a corporate lunch meeting in the jungle!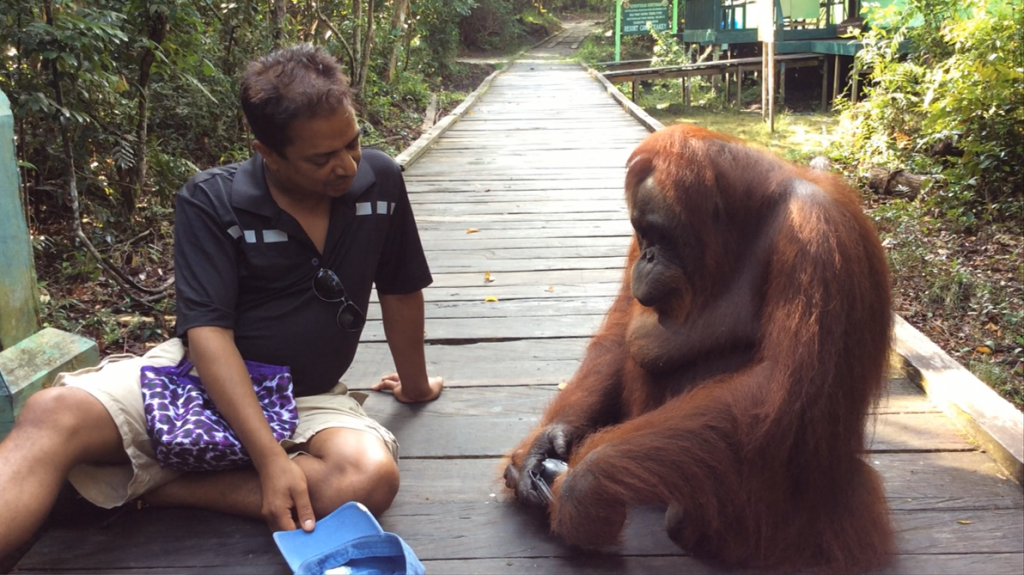 So what has happened to true headhunting in the millennium? What happened to the days of interviewing candidates in person, connecting with passive candidates over the phone or meeting with clients at their office?
Well, I can tell you that what is old is new again! Old School Headhunting is back and with a fervor. The unemployment rate is at the lowest it has been in 40 years, the population is aging, the birth rate is low and there is an anticipated skills shortage of over 1.2 million people by 2020. Human capital will become the most valuable commodity in the market place and it the reason that the $400 billion dollar headhunting industry is growing at an unprecedented rate.
The Job Boards will NOT replace headhunters. In fact, companies will realize sooner than later that the best candidates who want to find new career opportunities want to do so confidentially. And more importantly only humans can identify the best qualities of other humans.
There has never been a better time to become a Headhunter and solve the skills shortages for both companies and the gainfully employed who are dissatisfied with their jobs.
Even after 30 years, this industry continues to be the best things that has ever happened to me!